HOME
Prince Edward Island (residing in Ontario)
HIGHLIGHTS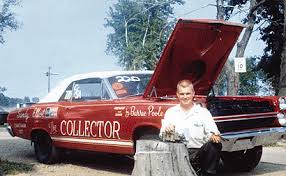 Barrie began his drag racing fame in Roseneath, PEI. He spent many tireless hours both driving and repairing drag cars and stock cars. He became one of North America's best known drag racers.
In 1965 in Ontario, Barrie started his ride to fame, by preparing and driving the Ford's dealership's first drag car, a 1966 Cornet Cyclone D/SA. He had 34 trophy wins and one Eliminator win. He made the Semi-Finals in the D/SA Class run-off at the Indy Nationals.
In 1970 he was the first Canadian to win an N.H.R.A. major "National Event", the Pomona Winternationals. In recognition of his win he was honored by Ford of Canada as "Racer of the Year".
Barrie had another honor bestowed on him as Chatham, Ontario's "Man of the Year".
Another of Barrie's talents' is his ability to build the finest performance engines on the continent. Carrying the "Poole Prepared" sticker on a vehicle is almost a license to win.
In 1984 he was inducted into the Prince Edward Island Sports Hall Of Fame.