Room Rentals
A written agreement is required for all rentals; view, download, or print here.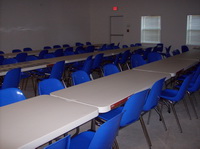 Banquet/Conference Room
Capacity 140 people (est.)
– 140 with chairs
– 120 with table & chairs
Brand New Facilities
PA System Available
Great Acoustics
Handicap Accessible
Wi-Fi
Rental Fee: $25.00*/hour, minimum is $75.00; maximum is $150.00/day
($100 Damage Deposit Required)
---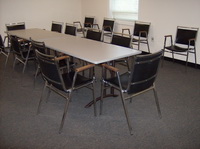 Meeting Room
Capacity 25 people (est.)
– Wi-Fi
Great for
– Classes
– Meetings
– Small Receptions
Rental Fee: $50.00*/day
---
Kitchen
Industrial Stove/Oven, Refrigerator, and Dishwasher
Full Line of Dishes and Cutlery Available (White dishes and stainless steel cutlery all matching)
Large Amount of Preparation Space
Rental Fee: $50.00*/day
---
* A liquor license is required to serve alcohol.Cost is $65 extra.