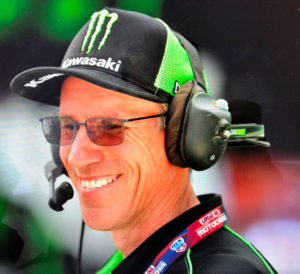 HOME
From Nova Scotia, resides in California
HIGHLIGHTS
1983 Danny started racing motocross in the Atlantic region by his 4th year, he won the open Pro motocross class for the region. Danny has travelled the world working with the best riders. Since he has been the Monster Energy Kawasaki Team Manager. He is presently the Senior Manager for the United States Kawasaki motocross team that competes at the FIM World Championships of Supercross and Motocross.
1986 Diploma of Engineering from Dalhousie University, NS
1989 Bachelor of Engineering, Metallurgy, Technical University of NS.
2013 MAM, Master of Arts in Management, University of Redlands CA.
Awards
1991 Eastern Canadian Motocross/Cross Country/Trails/Ice Racing Champion
1997, 2002 AMA Roadracing Superbike Championship Race Technician
2002 U.S. Superbike Championship Crew Member of the Year Award
2004, 2005, 2007 AMA Roadracing Supersport Championship Crew Chief
2007 AMA Supersport Crew Member of the Year Award
2011 AMA 450 Motocross Championship Racing Development Engineer
2011-2014 FIM Supercross World Championship Team Manager
2012 Whitehead Leadership Society Award, University of Redlands
2013 AMA Motocross Team Manager of the Year Award
2013 AMA 450 Motocross Championship Team Manager