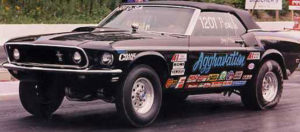 HOME
Moncton, NB
HIGHLIGHTS
Gerard Clow, born in New Brunswick. At a young age, he spent his money on rod magazines and Wheelspin News. At 15 he fell in love with NHRA Stock/Super Stock Eliminator racing, at Pennfield Dragway. 1983 Gerry purchased a 1969 Mustang 428 Cobra Jet convertible Stock Eliminator and went drag racing, very little mechanical knowledge and absolutely no experience.
1985 he defeated Canadian Hall of Famer, Vince Hazel, winning the Stock Eliminator Championship at Raceway Park, PEI. 1986 he joined a group of 16 top Maritime drag racers to redevelop
the Maitland NS drag strip. May 1987 he was the first New Brunswicker to win an NHRA Event, at Englishtown, New Jersey. 1998 Gerry achieved his greatest success in the sport of Drag Racing,
becoming a promoter of Class Racing, " Maritime Association Stock/Super Stock". he continued until 2010, by then, local interest had expanded from less than 12 racers to over 24.
2008 was the highlight when he partnered with sponsors at Miramichi Dragway to host the richest Stock/Super Stock race in the Maritimes.
2010 Gerry decided it was time to take a break.