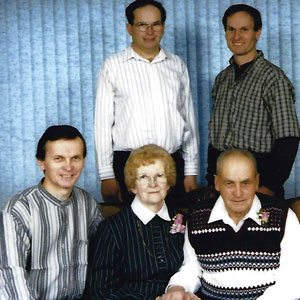 HOME
Boundary Creek, NB
HIGHLIGHTS
Recognizing Mt. & Mrs. George O'Blenis, Allan, Ray, and Roy…
O'Blenis Auto Body Repair & Paint Shop was established in the late 1950s and is still being run by Allan and Roy. This business is very much a family-run operation.
They have been sponsoring, building and painting race cars for over six decades. They sponsored such well-known drivers as Walter Dunfield in the #29, Caleb Dunn in the famous #12, and Jerry Campbell #45. The family has built and shown cars with the International Show Car Association shows all over the Maritimes as well as Quebec City, Montreal, Bangor Maine, and the Grand Finale in Atlantic City. They raced snowmobiles at oval and drag tracks in the '70s and '80s. They were a driving force in the building of Petty Raceway in the early '80s.
Their interests over the years include a collection of custom and antique cars as well as antique snowmobiles and a collection of 1/24th scale NASCAR Diecast cars.
Their trend continues today as the younger generation is continuing to be involved in the stock car racing.